Stay Up-To-Date
Feel Free to Leave a Comment and Stay Updated On My Posts!
After all of our projects and trials! We finally bring our class and studio to an end. My personal reflection on this class is that I truly did enjoy this class and all that we did! I believe that this class did help me get some of the knowledge that I need for my carrer which "fits the shoes so perfect" and was a great lead into what I want to do for my job! Also, I enjoyed the projects and just the class in general! If I can take the advanced version I will to continue because it is very fun and laid back compared to other classes! I am very happy to say that I can happily bring this semester to an end with this class! Honestly I would say that really everything that we did fell at the right time, and I didn't feel super rushed to have a close date to complete something, we had ample time to complete a project successfully and make it as perfect as it could be at the time. And my favorite project would be our "Final" project which was the "News Packet" story! That's really it for this last blog, Thanks For Tuning In and Hope To See You Soon!

Author

​Stay up-to-date with all of my posts and video updates right here on my site, easy to access and comment and questions or thoughts you may have.

Archives

Categories

RSS Feed
Powered by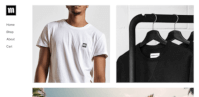 Create your own unique website with customizable templates.