Stay Up-To-Date
Feel Free to Leave a Comment and Stay Updated On My Posts!
Don't forget to head over to my videos page for my 6 Word Story project! Also Interviews coming soon! Stay Tuned!
ABOUT THE INTERVIEWS: The 6 Word Story Project basis was to find any 6 words and create a story with each and ever shot being completely different. Creating either a funny, sad or even a serious tone, the story will describe each word to the letter. And next up is our interviews with certain student(s) of our choice to ask a story of, and to have them tell us about themselves (Briefly) and to tell a story about any interesting topic that we can coax them into!


Author

​Stay up-to-date with all of my posts and video updates right here on my site, easy to access and comment and questions or thoughts you may have.

Archives

Categories

RSS Feed
Powered by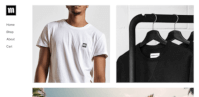 Create your own unique website with customizable templates.