Stay Up-To-Date
Feel Free to Leave a Comment and Stay Updated On My Posts!
In spite of our completing our 6 Word Stories, we are now embarking on our true news stories on any couple of real world people that we feel will spark a true shocking response from our viewers.
---------------------------------------------------------------------------------------------------
1: First Video: Adoption
At first, you believe the family will be just a normal 2 parent home family; but all that changes when you hear the story behind the kids. Then emotion comes when you hear how much the kids wanted to be adopted and how loving the family truly was. So the main message at the end was looks can be deceiving, that would change those kids lives forever.

2: Second Video: Junior High Football
At first you think the kids plan was just to play a trick on the coach, but soon after their real plan is disclosed, emotion comes. The real plan was to help a disabled kid score his very first touchdown, while winning the game, they help this loving kid put a smile on his face.


Author

​Stay up-to-date with all of my posts and video updates right here on my site, easy to access and comment and questions or thoughts you may have.

Archives

Categories

RSS Feed
Powered by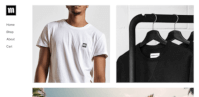 Create your own unique website with customizable templates.