Stay Up-To-Date
Feel Free to Leave a Comment and Stay Updated On My Posts!
Our Newest Interviews Are NOW UP! These Edited Interviews Feature The Absolute Best Sound Bites Of ALL Interviews Done By Me, Right Here At Our Studio! Check them out on my "Video's" page! These sound bites are from what I thought were the best, most descriptive moments of the numerous interviews feat. 1 Man from right here with us, and a special person that happily volunteered to be apart of them as well. The interviews themselves were around 3-5 minutes long, and featured a variety of questions and attempted storyboarding. Please check them out on the "Videos" tab.

Author

​Stay up-to-date with all of my posts and video updates right here on my site, easy to access and comment and questions or thoughts you may have.

Archives

Categories

RSS Feed
Powered by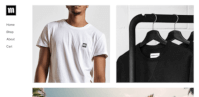 Create your own unique website with customizable templates.