Stay Up-To-Date
Feel Free to Leave a Comment and Stay Updated On My Posts!
For our newest and latest project, we have embarked on trying and starting our first real news packet. These packets will consist of "Soft News" which isn't news that's considered breaking. More like a local event, which is exactly what we got! This news packet: On VIDEOS PAGE, features the events that happened at a local high school, for 2 days over racial and unjust incidents that happened over our new Presidential elect. Don't Forget to check it out on my Videos Page!

Author

​Stay up-to-date with all of my posts and video updates right here on my site, easy to access and comment and questions or thoughts you may have.

Archives

Categories

RSS Feed
Powered by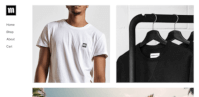 Create your own unique website with customizable templates.